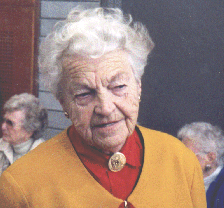 Hazel McCallion
The Mayor of Mississauga, universally called the
- QUEEN of Urban Sprawl -
Click here, to hear her say so
There is so much to say about the Mayor of Mississauga that it will have to wait till later.
The Mayor likes to have the only say and as she does her best to cut me off, some evidence that she does this to others is presented. This is her way of confrontational to get people to give up their chance to speak and not make their point. I should not be blamed for being somehow out of order when being assertive, when it comes to speaking up for the community.
It does not get covered in the press as it runs contrary to the myth the media has gone to great effort, to create over the years, that HURRICANE HAZEL is the greatest thing going for Mississauga. But at what cost to our Democracy? Here are just a few examples;

* Trying to gag or muzzle Peel Region Chair & a rare editorial that,
that is a No-No.
* Even more shocking is when the Mayor is so blatantly obvious that she is
telling a person, in this case the Councillor for Ward 1, to SHUT UP!
The sound clip is here, recorded live in City Council chamber while it
was being broadcast. It must have been so embarrassing for
Councillor Corbasson but as she does not support the community she
deserves to be seen as a lap dog Hazel abuses at will.

Interesting sound bites from the Mayor and other elected officials.

PLEEASSE SIGN OUR PETITION
It will make a difference!

Home page - Main Table of Contents - Back up a Page - Back to Top