Scanned, recopied or Internet copy, if there are errors, please e-mail me with corrections:
---
Opening comments: More at the end.

Sadly this teachers group is no more, my pictures of the event - but another has developed.
They are know as Monarch Teacher Network-Canada - http://www.earthcarecanada.com/EarthCARE_News_and_Events/Monarchs.asp

Monarch Butterfly Rescue!
---
Mississauga News - July 28, 2009 - By Julie Slack - jslack@mississauga.net
Teachers go to butterfly school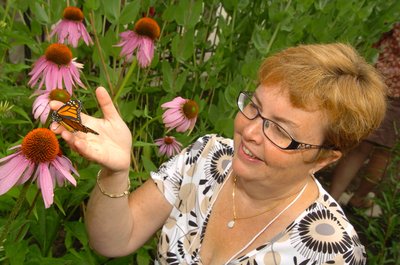 Summer school. Sandy McCuaig releases a monarch at Riverside Public School during this week's workshop for teachers,
called Teaching and Learning with Monarch Butterflies. Hosted by the Monarch Teacher Network of Canada,
the workshop shows teachers how to incorporate monarch butterflies into their school curriculum.
They learned how to raise butterflies in the classroom, create a butterfly-friendly outdoor garden and,
eventually, how to release the monarchs.
The teachers also toured Rattray Marsh, where milkweed, a source of food for monarchs, is prominent. Staff photo by Fred Loek
Even teachers go to summer school.

A group of about 75 teachers learned about monarch butterflies yesterday and today at Riverside Public School in Port Credit.

Anne Powers, coordinator of the Monarch Teacher Network of Canada, said the goal is to help teachers across the province incorporate the world of monarch butterflies into elementary and secondary school curriculum. The Kingston-based volunteer group holds workshops in four Ontario communities during the summer.

This week's group, comprised mostly of Mississauga teachers, learned about everything from raising butterflies in classrooms to how to tag them prior to release.

As part of the two-day session, participants worked with larvae, eggs and caterpillars, looked at the insects through microscopes, found eggs, fed butterflies and went on a field trip to Rattray Marsh to see milkweed, which monarchs are dependent upon for food.

Through both the classroom and field experiences, teachers also learned about the life cycle of monarchs and how to develop a school butterfly garden.
The teachers say they're always looking for creative ways to enhance the learning experience for students.

Christine Roberts, who teaches grades 2 and 3 at Riverside, has a head start. She planted a butterfly garden outside the school in June and butterflies are already visiting.

"This whole project and being able to pass it along to students gives me so much joy," Roberts said.

She added it will be the perfect learning experience for her class. Students will learn about the monarchs' migration to Mexico, where they spend the winter, and even experience a butterfly landing right in their hand, Roberts said.
---
PLEEASSE SIGN OUR PETITION
It will make a difference!
---
Home page - Main Table of Contents - Back up a Page - Back to Top
---
[COMMENTS BY DON B. - ]