A face is carved into a stump along side a path with a chain saw by the wild and crazy guys that the City gives chain saws to, to do forest management.
It was done at a time when other trees were cut down, along side the same path.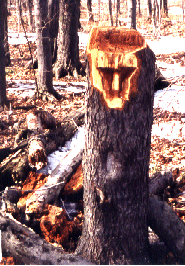 ---
PLEEASSE SIGN OUR PETITION
It will make a difference!
---
Home Page - Main Table of Contents - Back up a page - Back to Top
---