---
Scanned, recopied or Internet copy, if there are errors, please e-mail me with corrections:
---
Opening comments: More at the end.

It is great when it all comes together some times and get some of the best pictures possible - check out the rest taken that day.
A full page article - best one & my picture is not in it - oh, well.
---
Toronto Sun - Aug. 16, 2007 - page 30 - torontosun.canoe.ca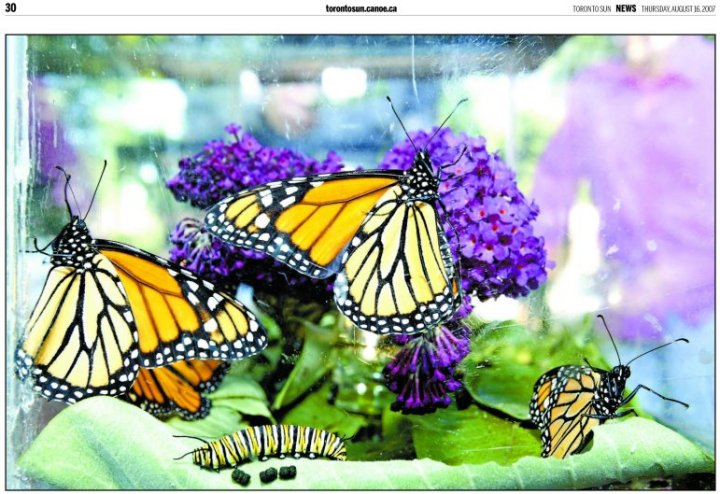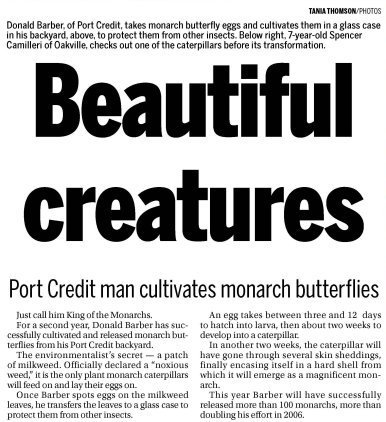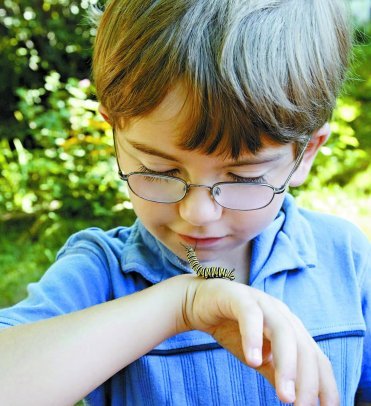 Text - TANIA THOMSON/PHOTOS
Donald Barber, of Port Credit, takes monarch butterfly eggs and cultivates them in a glass case in his backyard, above, to protect them from other insects. Below right, 7-year-old Spencer Camilleri of Oakville, checks out one of the caterpillars before its transformation.


Beautiful
creatures

Port Credit man cultivates monarch butterflies Just call him King of the Monarchs.

For a second year, Donald Barber has successfully cultivated and released monarch butterflies from his Port Credit backyard.
The environmentalist's secret — a patch of milkweed. Officially declared a "noxious weed," it is the only plant monarch caterpillars will feed on and lay their eggs on. Once Barber spots eggs on the milkweed leaves, he transfers the leaves to a glass case to protect them from other insects.
An egg takes between three and 12 days to hatch into larva, then about two weeks to develop into a caterpillar.
In another two weeks, the caterpillar will have gone through several skin sheddings, finally encasing itself in a hard shell from which it will emerge as a magnificent monarch. This year Barber will have successfully released more than 100 monarchs, more than doubling his effort in 2006.
---
PLEEASSE SIGN OUR PETITION
It will make a difference!
---
Home page - Main Table of Contents - Back up a Page - Back to Top
---
[COMMENTS BY DON B. - ]