Scanned copy, if there are errors, please e-mail me with corrections:
---
I have spoken to both Dave Gibo & Don Davis and they know far more then noted here.
---
Toronto Star - Sep. 9, 2006 - By Debra Black, STAFF REPORTER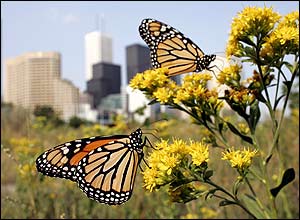 Monarchs this week near the Roundhouse, south of the CN Tower.
Photo by - PETER POWER/TORONTO STAR

Royal migration
Fall trek is still a mystery
They're suddenly everywhere — majestic black and orange butterflies fluttering in your garden, preening on a fence, landing on the neighbour's flowers. This weekend, millions of monarchs — or Danaus Plexippus as they're known in Latin — are starting their long trek to winter in Mexico's Sierra Madre Mountains.
The skies above the city, and all around southern Ontario, are filling as they take flight en masse. While some left in mid-August, the bulk of monarchs in Ontario and Quebec will take flight over the next three weeks, depending on the weather. The number of tiny migrants this year is expected to be the most in a decade.
The yearly pilgrimage is nothing short of a mystery, says Dave Gibo, a biology professor at the University of Toronto who has studied monarchs' flight tactics for about 20 years.
One question has perplexed scientists and enthusiasts alike — how is it that butterflies who have never been to Mexico unerringly fly there. "Most of what we'd like to know about monarchs is unknown, for example how they navigate, their flight strategies, their preferred direction," says Gibo.
Think of their migration patterns like a wave — an amplified wave — that washes over Canada and then recedes, he says. In spring, the monarchs head north from Mexico and journey here in a succession of generations. They travel for a while, lay eggs and die. Then the next generation continues the long journey north.
Monarchs flying south, however, usually survive the entire trip.
So how do they know where to go? It is this mystery that fuels the fascination for Gibo and millions of enthusiasts, who watch in awe and wonder as the majestic monarchs begin their flight south — in a kind of genetic preordained dance. They appear to be directed by a kind of urgent computer program going off in their heads, says Gibo — an instinctual message that says "it's time to go."
Each day they zigzag, sometimes going southeast, other days southwest, travelling as far as 100 kilometres a day. But their overall flight path is southwest to the Sierra Madres. To do so they may use celestial clues — the angle of the sun, the length of the day and information from the magnetic field, says Gibo.
For Toronto monarch butterfly enthusiast Don Davis, the next three weekends will be spent tagging butterflies for Monarch Watch — an international group that tracks the yearly migration.
Davis is in the Guinness Book of Records for tracking the longest butterfly migration. He tagged a monarch at Presqu'ile Point, near Trenton, in September 1988. It was recaptured six months later in Austin, Texas. The total distance travelled: 4,634 kilometres.
Davis, who has been fascinated by monarchs since he was a high school student in 1969, is expecting this year's migration to be "absolutely spectacular."
What fuels his love? "It's the changing of the season. It's part of our existence, part of our culture, part of living here in Canada — watching monarch butterflies."
Kind of akin to watching the leaves change colours, Canada geese fly south or salmon swim upstream, Davis says. "It's a time of change, it's fascinating."
---
---
Home page - Main Table of Contents - Back up a Page - Back to Top
---

[COMMENTS BY DON B. - ]