Scanned, recopied or Internet copy, if there are errors, please e-mail me with corrections:
---
Opening comments: More at the end.

At the Dec. 10, 2008, City Council meeting the South Peel Naturists and I addressed Council about buying the property we both agreed that indeed, the property should be purchased. BUT, I was the only one to suggest that Roy Ivor - AKA the Birdman of Mississauga - dream and life's work should be kept alive - the Bird Sanctuary. That the City should yes buy the land, keep it in its nature state but also contact wildlife rescue groups or Guelph University or even Mrs. Barns. The South Peel Naturists were clear, they knew better then to ask City Councillors & Mayor to care about the lives of wild animals - that best to only suggest expanding the City park that is beside the Roy Ivor woods.

At least someone spoke the words that needed to be spoken to remind those making decisions of how we got where we are and to keep the dream alive, not turn it onto just another politicians photo-op of a plaque being unveiled where the dream died and so many of our wood-land bothers & sisters lost their chance to live.

I was called the night before and asked to supply some pictures and did help out.

The Roy Ivor - the Birdman of Mississauga & Bernice Inman-Emery - the Birdwoman of Mississauga Web-page.
---
Mississauga News - Nov. 11, 2008 - By Julie Slack, jslack@mississauga.net
Future of bird sanctuary in question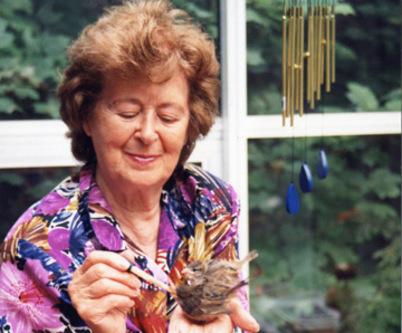 Bernice Inman-Emery had operated the rescue centre for sick and injured birds at 3220 Mississauga Rd.,
across from University of Toronto Mississauga, for more than 25 years.
When a 'For Sale' sign went up on the former Winding Lane Bird Sanctuary site in September, many city residents wondered why. And they wondered what happened to the bird lady.

Bernice Inman-Emery had operated the rescue centre for sick and injured birds at 3220 Mississauga Rd., across from University of Toronto Mississauga, for more than 25 years. The property included a huge enclosure for exotic or damaged birds that was usually filled to capacity.

Originally, Roy Ivor - AKA the Birdman of Mississauga - built the sanctuary. He cared for his feathered friends for more than 50 years and even wrote a book called I Live With Birds.

Winding Lane became a destination for school trips, where students learned how to care for injured birds and to respect wildlife. People from across Canada and the United States brought sick or injured birds to him so he could nurse them back to health.

On Ivor's 95th birthday in 1974, he took steps to see Winding Lane continue operating after his death.

When he died on Dec. 10, 1979, at age 99, he passed the torch to Inman, who had become his assistant. She carried on until 2005, when she faced her own battle with Alzheimer's Disease.

She eventually moved to a long-term care facility in Mississauga. She celebrated her 90th birthday there in September.

Despite memory loss caused by Alzheimer's, Inman's eyes light up when she sees photos of the raccoons that she cared for at Winding Lane. Applewood Acres resident Laurie Arbeau, who became friends with Inman after she brought an injured robin to the sanctuary for treatment many years ago, has taken up the cause to ensure Winding Lane doesn't become another concrete jungle, sold for development.

A listing for the property that has been running weekly in real estate ads states: 'Builders lot. 92 acres - ideal for custom home or to be sub-divided.' The asking price is $1.5 million.

Arbeau said it would be disturbing to see the land sold for development given its history and impact on so many city residents over the years. Nestled in the woods between Mississauga Rd. and the Sawmill Creek valley, it takes your breath away.

"It's like escaping from the city when you go there," Arbeau said. "It's peace and serenity. The feeling that comes over you when you go there is impossible to describe."

She has been sending emails and letters to anyone and everyone she can think of in a bid to save the property, including Ward 8 Councillor Katie Mahoney, who represents the area.

Mahoney said the city is currently doing an appraisal of the site and will make a recommendation to council in the coming weeks.

"There will be a report and a justification for buying (the property)," she said.

Mahoney agrees the property is significant and should be kept in the hands of the City so that it can be used by the public.

"It's surrounded by forest, woodland and trails and it's an environmentally sensitive area."

The house itself, a log cabin style home, is not part of the appraisal, Mahoney added. Staff will determine later if it is worth maintaining.

Bob Little, who served as property handyman and was Inman's assistant for more than 15 years, has continued to care for the remaining three parrots at the property. His sister Christine Burton, who's a close friend of Inman, has been handling her affairs.

Burton said when the property was listed they were barraged with calls from people interested in purchasing the site. She, like Arbeau, is hopeful the former sanctuary will remain open to the public.

---
Home Page - Main Table of Contents - Back up a page - Back to Top
---
[COMMENTS BY DON B. - ]