---
Scanned, recopied or Internet copy, if there are errors, please e-mail me with corrections:
---
Opening comments: More at the end.

The Roy Ivor - the Birdman of Mississauga & Bernice Inman-Emery - the Birdwoman of Mississauga Web-page.
---
Mississauga News - Jan. 28, 2009, Wed. - pg.# - By jslack@mississauga.net

'Bird lady', 90, dies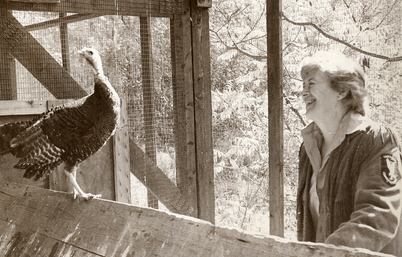 Bernice Inman-Emery died last evening. She was 90. File photo

Bernice Inman-Emery lost her battle with Alzheimer's Disease last night.

The well-known wildlife rescuer operated Winding Lane Bird Sanctuary on Mississauga Rd. for 25 years. Inman-Emery had been living at the Leisure World facility near Trillium Health Centre.

Funeral arrangements were not available at press time. Inman celebrated her 90th birthday last September.

Winding Lane became a destination for school trips, where students learned how to care for injured birds and to respect wildlife. Inman-Emery found great joy in sharing her knowledge of animals with others.

She took over the running of the sanctuary from world-famous ornithologist Roy Ivor, who established it and was famous for nursing animals back to health when others said they would never recover.

The Winding Lane property went up for sale last fall and city council subsequently directed City staff to begin negotiating to buy the small parcel of land on which Inman's long-time residence still stands.

The City already owns a large piece of adjacent property that it bought in the 1980s following Ivor's death.

Nathalie Karvonen of The Toronto Wildlife Centre told The News yesterday that her animal rescue service is very interested in moving from its present location in Downsview to the Winding Lane site. A staff member was at the site again yesterday to see if the property, which is slighty less than an acre, could fit the centre's needs.
---
PLEEASSE SIGN OUR PETITION
It will make a difference!
---
Home page - Main Table of Contents - Back up a Page - Back to Top
---
[COMMENTS BY DON B. - ]
---