Wood Duck
at the
Cawthra Bush
---

Have you ever seen a duck in a tree
?????????????????????????
Most people will say no and be right but it is not impossible. The Wood duck can not only be seen in trees but also nests in trees. Not in nests but holes or cavities right into the tree. Cavities, most likely made by Pileated Woodpeckers. Their webbed feet even have claws for hanging on to branches. The male is noted as the most highly coloured if not beautiful North American Duck.
More about them can be found here; http://www.cws-scf.ec.gc.ca/hww-fap/woodduck/woodduck.html
For years there has been a breeding pair showing up in the Cawthra Bush but we have not seen any young. Last year was the first time they were not seen. The top of a large tree beside a pond in the Cawthra Bush had fallen down and with it came a large collection of feathers, like you would find in a nest. We have asked the City for permission to put up a nesting box. Of course the City will not allow it.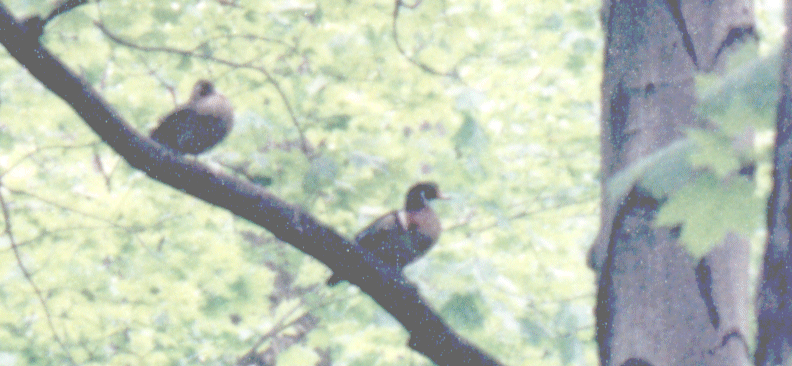 Comments:
Details: Picture taken close to the estate pond. Below is the female on a fence around the pond.
Date: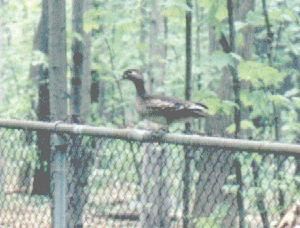 Comments:
Details: Same day - female.
Date:
---
PLEEASSE SIGN OUR PETITION
It will make a difference!
---
Home page - Main Table of Contents - Back a page - Back to Top
---