---
Scanned, recopied or Internet copy, if there are errors, please e-mail me with corrections:
---
Opening comments: More at the end.

Not sure as to the date of her birthday, as it is listed as Sept. 3, here and posted Sept. 5th.

The Roy Ivor - the Birdman of Mississauga & Bernice Inman-Emery - the Birdwoman of Mississauga Web-page.

[the "with with" as printed ]
---
Mississauga News - Sept. 10, 2008, Wed. - pg.# A8 - By Helen Mirrless, Special
Your Community, Your Space
Mayor drops by for 90th party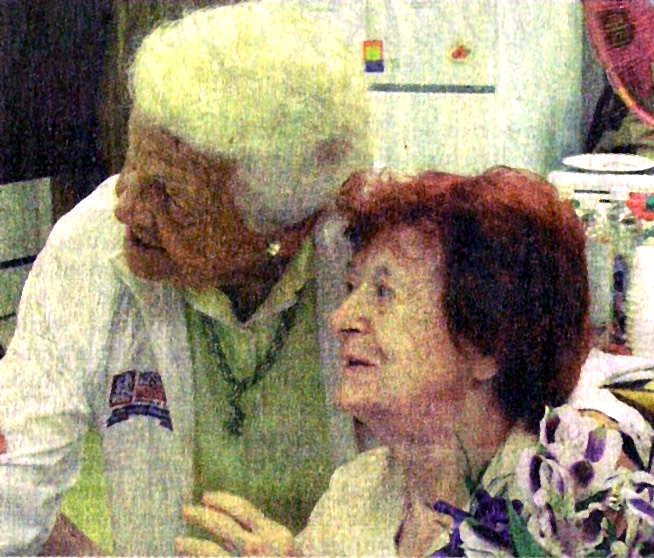 Mayor Hazel McCallion stopped by Leisureworld to wish Bernice Emery a happy birthday.
A group of friends gathered to help Bernice Emery celebrate her 90th birthday on Sunday, Sept. 7 at the Leisureworld retirement facility in Mississauga.
In attendance were Bernice's close friends Christine Burton and her brother, Bob Little, along with with their dad, Don.
Then there were Bernice's writer friends -- Diana Aspin, Elsa Harrold, Elaine McShane and Helen Mirrlees. This group first met over 20 years ago when they attended creative writing courses at Sheridan College in Oakville. They have come together almost monthly since then, sharing their writing and their personal lives. They have a long history of camaraderie and fellowship.
A wonderful surprise visitor to this party was the Mayor of Mississauga, Hazel McCallion, who presented a special plaque to Bernice to commemorate the occasion. McCallion also told Bernice that she looked forward to celebrating her 100th birthday with her in 10 years time.
We all seconded and toasted that sentiment heartily. Happy Birthday, Bernice -- we love you dearly.
---
PLEEASSE SIGN OUR PETITION
It will make a difference!
---
Home page - Main Table of Contents - Back up a Page - Back to Top
---
[COMMENTS BY DON B. - ]
---